You can find a strategy to pass this mode here.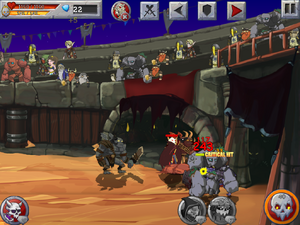 The Arena is a bonus mode introduced in version 1.2. It is quite easy until wave 52.
Gems for defeating heroes
You get gems or other objects when you defeat a hero.
Gems
Fairy
2
Dwarf
Knight
Elf
Faun
5
Healer
6
Unicorn
7
Golem
8
Wizard
10
Soulstone Challenge Bosses
Minibosses (no soulstone)
Wave 25: Tier 4 Dwarf
Wave 35: Tier 4 Unicorn
Wave 45: Tier 4 Golem
Wave 55: Snowbeast (although he is a monster)
Wave 65: Tier 4 Healer
Wave 75: Tier 4 Wizard
Wave 85: Two big tier 3 Knights
Wave 95: Tier 4 Phoenix
Hero drops
Bugs
Strangely, HP and speed potions don't have any effect on trolls.
See [1]
Notes
Community content is available under
CC-BY-SA
unless otherwise noted.